Jaisalmer is one of the most astounding places in India. There is no other place like Jaisalmer in India. It is the only city which is very close to a desert and gives a desert experience close to Abu Dhabi and Dubai. The "Golden City" is also known for its famous camel safari in Jaisalmer. It is an amazing place to explore and must-visit places in India. Jaisalmer travel can help you get a desert experience that can be extremely thrilling and fun! The Jaisalmer fort looks like a real-life sandcastle that one can only imagine in movies. It resembles the castles in Arabian Nights folklore. You sure don't want to miss out on this exotic place, the Golden City of India.
Reasons why you would love Jaisalmer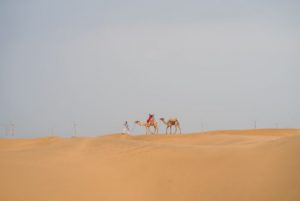 1. Camel Safari
This mystic city is known for its famous Camel Safari. Camel Safari in Jaisalmer is one of the most sought our activity and gives a thrilling experience. At Royal Camp Jaisalmer, you can enjoy a camel safari on the sand dunes at your own comfort and book your slot as per your requirements.
2. The Landscapes
The view of the mystic sand dunes in Jaisalmer is definitely going to leave you in awe for sure. You can enjoy the view of Jaisalmer from the top of the Jaisalmer Fort or you can enjoy the landscape of the sand dunes in Jaisalmer by camping while you stay. At Royal Camp Jaisalmer, you can enjoy the view of the exotic sand dunes of Jaisalmer while your adventure activities like parasailing in Jaisalmer or Camel Safari in Jaisalmer. You can also enjoy the night sky by camping outside in the sand dunes of Jaisalmer with us.
3. The Fort of Jaisalmer
The Fort of Jaisalmer is one of the most sought after places and one of the main attractions in Jaisalmer. The Jaisalmer fort is one-of-a-kind and is known for its resemblance to a sandcastle. The fort is made from yellow sandstone and looks amazing under the blazing golden sun, resembling the scene from folklore or fiction. The fort has many chambers and is a marketplace where tourists can purchase traditional items and traditional dishes.
4. The Shopping
Jaisalmer is an amazing place for a good shopping sphere. You can enjoy purchasing a variety of traditional and exotic things that can only be found in Jaisalmer. Traditional dresses in vibrant colors and other accessories that are handcrafted in Jaisalmer cannot be found anywhere else. You can also buy many handcrafted items like wall hangings, cushion covers, etc at a good bargain.
5. Adventure activities in Jaisalmer
Along with many exotic places, tourists also enjoy other sports activities that cannot be done anywhere in India. Many desert adventure activities like Dune bashing, parasailing, camel safari in Jaisalmer are one of tourist attractions and most of them prefer to indulge themselves in such thrilling activities.
At Royal Camp Jaisalmer, you can enjoy all these activities at our sports center names Thrillsa Adventure, where you can enjoy all the thrilling activities on sand dunes along with your stay with us. You can have the most exotic experience with Royal Camp Jaisalmer as we provide an amazing camp stay with a variety of options that you can choose from and also activities and sports that you can enjoy all in one place!